For growing families on a budget, the Dodge Journey is an ideal three-row SUV. With seating for up to eight passengers, this vehicle offers plenty of space and comfortability in addition to being reasonably priced compared to other vehicles with similar features. The used car market also provides a great opportunity for those seeking a quality three-row SUV without breaking their budget. For anyone looking for an affordable yet reliable option that still has plenty of room for both cargo and passengers, the Dodge Journey should be strongly considered.
Do Dodge Journeys have 3rd row seating?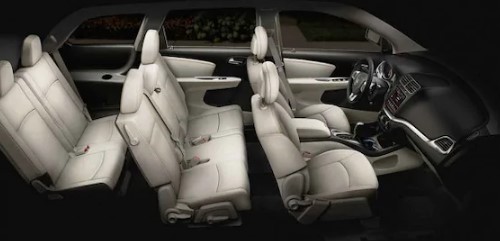 The Dodge Journey is a three-row SUV that has the capacity to seat up to seven passengers. It is one of the most affordable SUVs in its class, making it an attractive option for those seeking value for money. This post provides a comprehensive overview of the features and benefits associated with this particular model, highlighting its 3rd row seating capabilities in particular. The 2020 Dodge Journey was the last version available on the market as production of this SUV has since been discontinued; therefore, we will be focusing mainly on this specific model year's features and specs.
Handy resources: Ignition Wire Toyota Ignition Switch Wiring Diagram
Do Dodge Journeys Have 3rd Row Seating?
The 2020 Dodge Journey is a midsize SUV with a third row of seats that can accommodate up to seven passengers. It features decent passenger capacity, as well as foldable second and third row seating for additional cargo space.
In terms of passenger capacity, the first two rows offer 40.8 inches (legroom) and 40.8 inches (headroom) in the first row, 36.1 inches (legroom) and 39.9 inches (headroom) in the second row and 23.4 inches (legroom), 37.7inches(headroom). Although adequate for most passengers, its third-row seating leaves something to be desired — it's best suited for children or smaller adults due to limited leg room compared to other rows.
When it comes to cargo space however, the Journey offers many different configurations: 10.7 cu-ft behind the third-row seat; 37 cu-ft when split 50/50 between both rear seats; 67 cu-ft when both rear seats are folded down; plus an underfloor storage bin located beneath the rear cargo area all make packing easier than ever before!
Dodge Journey Interior Features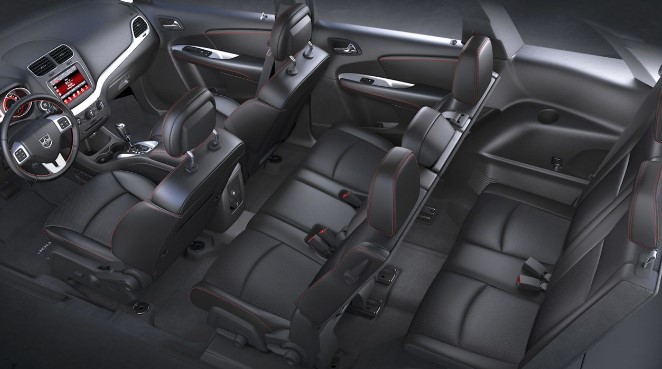 The 2020 Dodge Journey comes equipped with the Uconnect infotainment system, a user-friendly interface that has garnered praise from critics and customers alike. The standard screen is only 4.3 inches, but the Crossroad trim provides an 8.4 inch touchscreen with access to AM/FM radio, SiriusXM support, MP3 support as well as auxiliary audio input jack and USB port – though neither Apple CarPlay nor Android Auto are supported. A six-speaker sound system with subwoofer is included in all trims while an optional premium sound system can be purchased for more comprehensive entertainment options. Customers may also purchase the rear seat entertainment package featuring a 9 inch display for passenger enjoyment during long trips.
On the other hand, interior design of the 2020 Journey leaves much to be desired when it comes to quality; many components such as door trim panels or shifters feel hollow and plasticky – making clear one gets what they pay for in this case! Even features like power adjustable passenger seats or heated seats are surprisingly absent despite being available on newer models nowadays. Despite these shortcomings, however, overall value proposition presented by Dodge Journey remains appealing given its relatively low cost compared to competitive products in its class today.
Hot topics: Honda DTC U0416-68
Dodge Journey 3rd-Row Seating: Is It Enough?
The Dodge Journey provides third row seating, but it is not sufficient for large and growing families. With only 23.4 inches of legroom in the third row, it can only accommodate small children comfortably. Reports indicate that second-row passengers may have to give up some of their legroom to seat people in the third row, even if they are just children.
Given these limitations, the Dodge Journey SUV should only be considered by those with young families or who do not intend to use the third row very often. Families needing more space would likely be better served by an alternative model from a competitor manufacturer.
At this point, we hope that we have answered your question about whether or not the Dodge Journey has 3rd row seating; while it does offer such an option, its utility is limited due to insufficient legroom and other factors which make it less than ideal for larger groups of passengers looking for additional space in their vehicle.
Alternative Three-Row SUVs for the Dodge Journey
The 2020 Dodge Journey has some notable flaws and limitations. For those seeking a reliable, comfortable ride for their family or friends, there are several alternatives that may be more suited to their needs. The Chevrolet Traverse, Honda Pilot and Kia Sorento all provide excellent features at competitive prices that make them worth consideration if you're in the market for a new SUV. Each of these vehicles offer superior comfort, safety ratings, fuel economy and cargo space compared to the Dodge Journey.
2020 Kia Sorento
The 2020 Sorento is far superior to the ancient 2020 Journey SUV in terms of features, passengers space and comfort. The Sorento provides 154.2 cu-ft of passenger space compared to the Journey's 124 cu-ft, and its 31.7 inches of third-row legroom comfortably surpasses the Journey's 23.4 inches. Although the price difference between these two vehicles isn't substantial, customers will still receive greater value from investing in the Sorento due to its enhanced performance and interior design.
2020 Volkswagen Tiguan
The 2020 Volkswagen Tiguan is a highly-rated SUV that provides an excellent alternative to the outdated 2020 Journey. With its refined driving experience, impressive fuel economy and reasonable price point, the VW Tiguan beats out the Journey in many key areas. Even more so for customers who need three rows of seating – standard on the front-wheel drive model and optional on all-wheel drive – as this can be hard to come by at an economical price range. Therefore, it is definitely worth skipping over the 2020 Journey in favor of any other SUVs in its class – especially with what Volkswagen has to offer.
2020 Mitsubishi Outlander
The 2020 Mitsubishi Outlander is another viable option when considering a vehicle similar to the Dodge Journey. Despite offering an additional row of seating, the Outlander doesn't have much more cargo space than the Journey with 125.5 cu-ft of passenger space available. However, where it does outshine its competitor is in fuel economy and for those looking for an eco-friendly solution, there's also a plug-in hybrid option available.